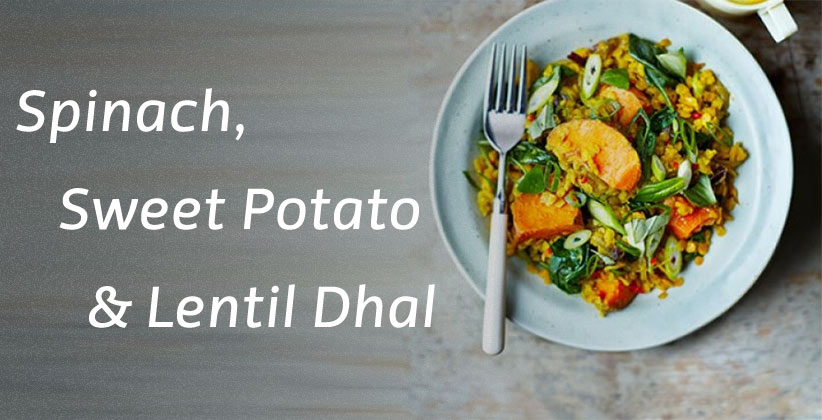 Serves: 4
Expertise level: very easy
Preparation time: 10 minutes to prepare, 35 minutes to cook
A terrific one-pot recipe that is low fat, low calories and iron and mineral rich. Suitable for vegans and vegetarians. The dahl freezes well and will keep in the fridge for 2 days.
Nutrition: per serving
Kcal 397
Fat 5g
Saturates 1g
Carbs 65g
Sugars 19g
Fibre 11g
Protein 18g
Salt 0.6g
Ingredients:
2 x sweet potatoes (about 400 grams cut into small chunks)
250 grams of brown lentils
1 x bag or 800 grams of spinach
1 x red onion, finely diced
1 x clove of crushed garlic
1 x small piece of ginger (about the size of your thumb, peel the ginger and finely chop)
1 x medium sized red onion, finely chopped
1 x small red chili
1 x 15 mls of sesame oil
600 mls of good vegetable stock
1 ½ tsp ground turmeric
1 ½ tsp ground cumin
1 tsp salt
1 tsp black pepper
For serving you will need:
4 x spring onions sliced diagonally
3 stems of Thai basil torn into small pieces
Method
In a large saucepan (that has a lid) heat the sesame oil and then add the onion and sauté over low heat for 10 minutes until the onion becomes translucent and soft. Add the ginger, garlic and the chile and stir for 1 min until they begin to soften. Then add the turmeric and cumin and cook for an additional minute.
Turn up the heat under that pan to medium and add the sweet potato chunks. Stir this together so that the potato is coated with the spices. Add the lentils, stock, salt, and pepper. Bring this mixture to a boil when it is boiling cover with the lid and reduce the heat to low and cook for 20 minutes until the lentils are tender and the potato can be pierced with a fork.
Taste and add more salt, pepper and even chili if you like more heat, then stir in the washed spinach.  Once the spinach turns bright green and starts to wilt the dish can be served.
Serving suggestions: Place the mixture in a large bowl or on individual plates and scatter the green onions and Thai basil on top.
If you want to freeze the dish, don't add the onions and basil, simply wait until cooled and pop into a freezable container. This can be stored frozen for up to 3 months.
Extracted from: https://www.bbcgoodfood.com/recipes/spinach-sweet-potato-lentil-dhal